Shell Energy, BT Mobile and Virgin Mobile among the most complained about broadband and mobile providers
Ofcom recently published a report on which mobile and broadband customers complain the most about their providers.
As per the data in Q2 2022 from April to June, complaints remained the same as the last quarter (January to March 2022), with a slight increase in complaints from fixed broadbands.
With regards to broadband, Shell Energy generated the most amount of broadband and landline complaints per 100,000 customers. The processing of complaints was the main cause of customer complaints.
Vodafone, TalkTalk, Virgin Media and Plusnet also performed worse than the industry average.
On the other hand, Sky was the best performing broadband provider, with only three complaints per 100,000 customers. EE, BT and NOW Broadband also generated an average of just 11 complaints per 100,000 customers.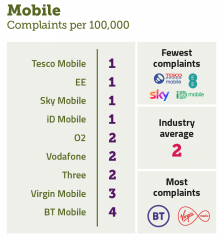 Under the mobile category, Ofcom reported BT Mobile and Virgin Mobile as the most complained-about mobile operators, with customers largely lamenting their experiences switching providers (BT Mobile) and how their complaint was handled (Virgin Mobile).
The mobile industry's least-complained-about carriers were Tesco Mobile, EE, Sky Mobile, and iD Mobile.
Lindsey Fussell, Ofcom's Group Director for Networks and Communications said: "Overall complaint numbers are stable, but these figures show some providers need to step up. And with household budgets being squeezed during the cost-of-living crisis, people will be taking a closer look at their provider to make sure they're still the right one for them."