Customers using Apple's official trade-in scheme to get rid of their old iPhone for cash could be nearly £100 worse off than if they went to a third-party trade-in company, according to research from CompareMyMobile.
The price comparison measured the average trade-in price of iPhones across an undisclosed number of third party companies. It has found that the manufacturer has slashed values ahead of the upcoming new iPhone launch, while many independent services have yet to do so.
CompareMyMobile found that more recent devices had the largest price differences between Apple's values and those of third-party companies. However, there is a narrow window for consumers to capitalise, as CompareMyMobile anticipates that third party companies will also lower their values once the new iPhone is announced.
The top three differences by price were the iPhone XS Max, the iPhone X, and the iPhone XS, with price differences of £97, £87 and £82 respectively. The chart below shows the complete range of differences, but does not include price differences for the first generation iPhone SE.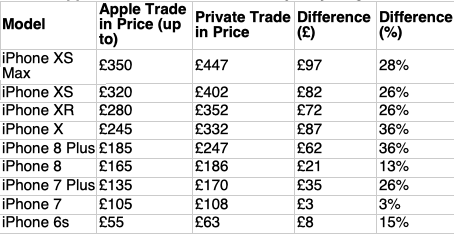 Currently, Apple does not include the iPhone 11 in its trade-in portfolio, but CompareMyMobile estimates that the device range is valued between £513 and £716 from third-party companies.
"Apple products tend to hold their value better than other brands, but the trade-in deals from Apple represent some of the worst on the market and in most cases don't reflect the current value of the handsets," said CompareMyMobile expert Rob Baillie.
However, Baillie added that upon the launch of the new iPhone (speculatively called the iPhone 12), third-party services would probably also lower their prices.
"We'd expect to see the trade-in values for iPhone drop across the board during the launch week for the iPhone 12, meaning customers could lost around 20 per cent of their phone's value in just a few weeks from now."