Chinese manufacturer also announces move into smart glasses 
TCL has announced the next instalment in its own-brand smartphone series, a new range of  Alcatel smartphones, and a series of TCL-branded tablets and wearables.
At this year's virtual Consumer Electronics Show (CES), the Chinese manufacturer unveiled the TCL 20 5G and TCL 20 SE smarthpones.
TCL Smartphones
TCL's second iteration of its own-brand smartphones which it launched last year starts with the TCL 20 5G and the TCL 20 SE, with three more smartphones set to launch later this year – the TCL 20 Pro, TCL 20 L, and TCL 20 S.
The TCL 20 5G is a mid-range 5G-enabled phone that runs on Qualcomm's Snapdragon 690 5G chipset, with a 6.67-inch HD+ display and a 4,500mAh battery.
It has a triple-camera setup, with a 48MP main lens, an ultra-wide lens, and a macro lens, as well as an 8MP selfie camera. It can shoot 4K video at 30fps, and has 6GB RAM, with 128GB and 256GB internal storage variants.
The TCL 20 SE is larger, but is 4G-only, with a 6.82-inch display, and a 5,000mAh battery. It has 4GB RAM and 64GB internal storage, running on the Qualcomm Snapdragon 460 chipset.
It has a quad-camera setup, with a 16MP main camera, an 8MP wide-angle lens, a 2MP macro lens, and 2MP depth sensor. It also has reverse-wireless charging capabilities.
Both phones run on Android 10, with TCL promising an Android 11 update this year, as well as three years of security updates. The TCL 20 5G is already available in Italy will launch in other territories later in January in Mist Grey and Placid Blue at €299, while the TCL 20 SE has will be available across Europe in Nuit Black and Aurora Green for €149.
TCL intends to give the devices a UK launch with UK-specific pricing in April.
Alcatel smartphones
TCL also introduced 2021 variants of the Alcatel 3L and 1S. The 3L has a 6.52-inch 20:9 HD+ display, a triple-camera setup with a 48MP main sensor, 2MP macro lens and 2MP depth sensor, and an 8MP front camera.
It has 4GB RAM and 64GB internal storage, expandable up to 512GB via microSD card, and a fingerprint sensor.
It has an Mediatek Helio P22 processor with 4GB RAM, running Android 11 on a 4,000mAh battery, and will launch in "selected markets around the world" in Jewelry Blue and Jewelry Black colours with a European price of €149.
The 1S also has a 6.52-inch screen and a 4,000mAh battery, with a triple camera setup composed of a 13MP main sensor, a 2MP depth sensor and a 2MP macro lens, as well as a 5MP front camera.
It also runs Android 11 on a Helio P22 chipset, but with just 3GB RAM and 32GB internal storage, although this is also upgradeable to 512GB with a microSD card.
The 1S will be available in "select markets around the world" starting in February 2021 with a European RRP of €109 in Elegant Black and Twilight Blue colours.
Addtionally, following on from teasing prototypes of rollable and flexible technology last year, TCL said it would be bringing out a flexible screen device later in the year.
Tablets
TCL also announced two new own-brand tablets, the TCL NXTPAPER and the TCL TAB 10s.
With the NXTPAPER, TCL has released the first tablet to use its display technology of the same name, which it first announced at IFA 2020.
It uses a reflective IPS screen that results in full-colour displays without blue light, backlight or flicker, making it less intensive on a user's eyesight.
TCL also claims this screen provides 25 per cent higher contrast than most e-ink tablets, and is 65 per cent more power efficient than a standard LCD screen.
The tablet itself has a 5,500mAh battery, as well as a 5MP front camera and 8MP rear camera. It runs Android 10 and has an 8.88-inch display. In power terms, it has 4GB RAM and 64GB internal storage, with microSD storage expandable up to 256GB.
It also has a Kids Learning option, with a child-friendly UI and parental controls that works in tandem with Google Assistant.
The TAB 10s features a 10.1-inch display with an 8,000mAh battery, as well as an 8MP rear camera and 5MP front camera. It has 3GB RAM and 32GB internal storage and 4GB RAM/64GB internal storage variants, and also allows for microSD storage up to 256GB. It also features a TCL T-Pen stylus.
The NXTPAPER will be available across Europe from April for €349, while the TAB 10s will be available in Q2, with the WiFi version costing €199 and the 4G version costing €249.
TCL is also launching a new Alcatel tablet, the 1T 7 WiFi, which is an affordable tablet starting at €75 also featuring a Kids Mode, in Obsidian Black and Mint Green colours from later in January.
TCL will also be launching a 5G tablet later in the year.
TCL's general manager for global marketing Stefan Streit said the affordable tablet segment was important in light of the need for families to work and study remotely.
"NXTPAPER is a prime example of the Display Greatness philosophy that TCL Mobile has embodied since it launched over a year ago, and showcases how a vertically integrated ecosystem can help produce innovative new products quickly and affordably," he said. "This new type of display will directly benefit remote workers and students alike, bringing new features that help encourage productivity, make life easier, and keep our eyes safe.
"We also know that tablets are shared across different family members. That's why we have Kids Mode that allows the parent to first of all protect their own content, you know, when you give it to the kids, but also, give specific access to the internet to their kids."
Wearables
TCL is also set to expand its portable electronics ecosystem with a new pair of wireless earbuds, the TCL Move Audio S600, and a new pet tracking smart device, the TCL MOVETRACK. The buds will cost €149, and the tracker will cost €99.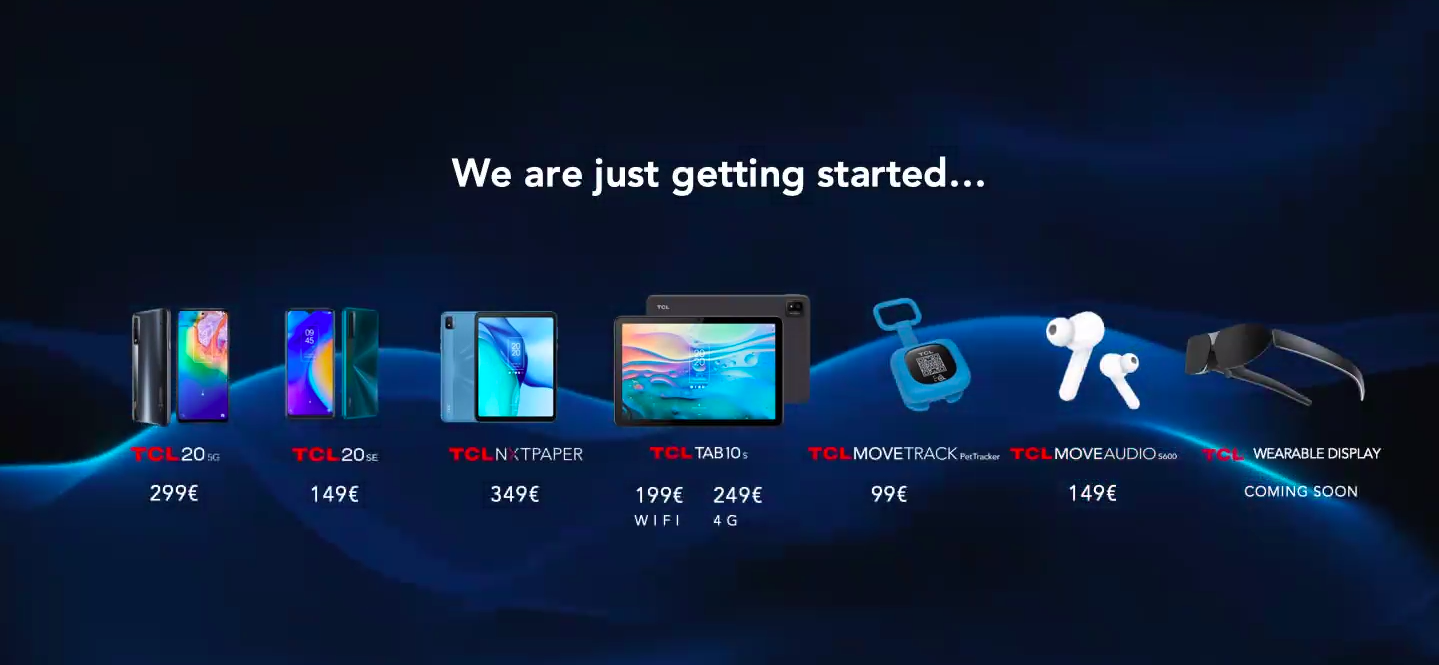 TCL will also launch Wearable Display smart glasses later in the year, with a dual 1080p full HD micro OLED display, and a 140-inch cinematic viewing experience. Streit said that the device would be first available in Japan and South Korea, with no current plans for a UK release.
2020 performance
Speaking to Mobile News, Streit and TCL senior product manager for the UK and northern Europe Patrick Power discussed TCL's debut year with its own-brand devices.
Despite the disruption of the Covid-19 pandemic, which interrupted prospective brand partnerships with BAFTA and the Luna Cinema, Power said they were pleased with the reception the TCL 10 series received.
"The TCL brand was ranged by EE, Vodafone and Three, and as we move into 2021 we're in conversations with them to move to the next level of devices," said Power.
"In terms of distribution, we've started to become successful with selling into enterprise, so that's a new opportunity that's opened up for us, and the new devices will be Android Enterprise Recommended.
"We had tremendous traction last year with the new Alcatel devices as well. We found their spec and price was mapping well onto what enterprise customers needed."
Data Select and Eurostar Global handle UK distribution for TCL devices.